How to use your android device as a security camera with your Chromecast powered television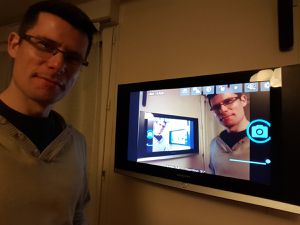 You can do all sort of things for security nowadays with all sort of digital devices but I couldn't find a way to easily monitor my kids when they are in the courtyards and I am in the living room.
That was frustrating because I do have a WIFI "security" camera since I have a mobile device :)
I also have a security monitor right in the middle of my living room, it's my television!!
How to transmit the video to the television? It just happened that I have a Chromecast to watch video series. It costs 30€.
Based on this setup, all I need to do is mirror my mobile display on the Chromecast powered television, open the camera app on my mobile and that's it!
Well, yes except that the default Android camera app stop after few minutes to save your battery life, which is not that good for what we want to do.
The nice thing with Android is that you have app for pretty much everything. Open camera is free and will stay on as long as you need it.
Bottom line: Android + Chromecast + Open Camera give you a nice security camera for right on time purpose and for (nearly) a penny.
PS: yes, it is totally off topic with this blog main topic.